Does Medicare Cover Assisted Living Costs?
Considering a move into an assisted living community can be a challenging process.
And if you are like most people, cost is one of the very first things that comes to mind.
You want the highest quality of care and surroundings that are both beautiful and stimulating but aren't sure how to afford it.
You are curious about Medicare and assisted living.
Does Medicare cover assisted living costs?
This guide will tell you everything you need to know about Medicare and financial assistance for assisted living communities.
What Is Medicare?
Medicare is a federally funded health insurance program that is available to:
Individuals who are aged 65 or older.
Certain younger people who are suffering from disabilities.
People with End-Stage Renal Disease (ESDR) who have permanent kidney failure and require kidney dialysis or a transplant.
There are 4 different parts of Medicare to help cover specific healthcare services:
Medicare part A (Hospital Insurance) covers:

Inpatient hospital stays
Hospice care
Care in a skilled nursing facility
Some home healthcare services

Medicare Part B (Medical Insurance) covers:

Some doctors' services
Outpatient care
Preventative health services
Medical supplies

Medicare Part C (Medicare Advantage) is a type of health insurance plan that provides Medicare benefits through a private-sector health insurer.
Medicare Part D (prescription drug coverage) helps to cover the cost of:

Preventative health care
Many shots and vaccines
Some individuals get Medicare automatically.
But if you are 65 (or will be turning 65 within the next three months) and not currently receiving Social Security, you are required to sign up in order to receive Medicare Part A and Medicare Part B.
Is Assisted Living Covered Under Medicare?
One of the first questions that people ask when considering a move into assisted living is, "Does Medicare cover assisted living costs?".
Unfortunately, the answer is no.
Medicare does not cover the cost of residence in an assisted living facility.
Medicare, like other health insurance plans, does not cover any long-term care services, including the cost of room and board and personal care in an assisted living facility.
Does Medicare Cover Assisted Living for Dementia or Alzheimer's?
A diagnosis of dementia or Alzheimer's Disease can be overwhelming for the entire family.
You want your loved one to have the opportunity to live their life to the fullest and receive the best care available.
What about Medicare and assisted living for those who are suffering from Alzheimer's Disease or dementia?
While Medicare Parts A and B cover medically necessary care for those with dementia and Alzheimer's Disease, they do not pay for custodial or personal care, including the cost of living in assisted living residence or in a memory care facility.
Medicare Parts A and B coverage for a person with dementia or Alzheimer's Disease includes:
Inpatient hospital stays
Skilled nursing care for up to 100 days
Preventative health care
Doctor's appointments
Lab work and diagnostic tests
Physical therapy
Medical equipment
Hospice
According to the Alzheimer's Association, there are specific Medicare Special Needs Plans that are available for individuals with dementia, and that includes those who have Alzheimer's Disease.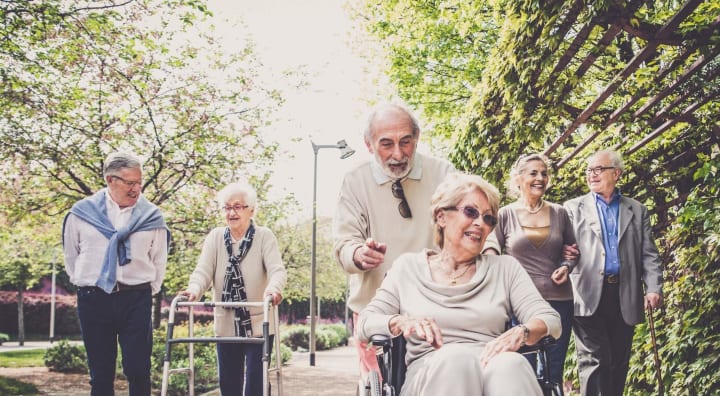 Medicare Advantage and Assisted Living Coverage for Dementia or Alzheimer's
Medicare Special Needs Plans (SNPs) are a type of Medicare Advantage Plan (Medicare Part C) that are similar to an HMO or PPO.
These plans specialize in coverage and care for beneficiaries with specific care needs, including dementia and Alzheimer's Disease, and they tailor their…
Choices of providers
Available benefits
Drug selections
…to best meet the needs of the specific groups they are serving.
One type of SNP is the Institutional Special Needs Plan (I-SNP), which includes individuals living in an assisted living facility.
Within a SNP, Medicare Advantage has the ability to officially designate an assisted living residence as an individual's "home."
While Medicare Advantage will not cover the full cost of staying in an assisted living community, it may potentially help save a great deal of money on the overall cost by paying for a portion of living in the residence.
Enrollment in an I-SNP includes the following details:
You must be enrolled in both Medicare Parts A and B to join an I-SNP.
The availability of an I-SNP is dependent upon the patient's medical condition as well as the state and region in which they live.
Typically, those enrolled in an I-SNP will continue to pay their Medicare Part B premium, although some SNP's will pay this for the enrolled individual.
Some SNP's will charge individuals an additional premium in addition to the Part B premium.
SNP's are required to provide the patient with Part D coverage.
What Does Medicare Cover While Living in an Assisted Living Facility?
Although assisted living is not something that is covered under Medicare, it does not mean that you do not have coverage for other medical services while living in an assisted living residence.
If you move to an assisted living community, Medicare will still provide coverage for your…
Approved prescriptions
Necessary surgeries
Doctor's appointments
Medical screenings
Necessary medical equipment
…just as it did when you lived at home.
Prescriptions
Medicare Part B (Medical Insurance) will cover your prescription drugs as well as a limited number of your outpatient prescription drugs.
Generally speaking, these include drugs you would get in a doctor's office or at a hospital outpatient visit.
Examples of prescriptions covered by Part B Medicare include:
Drugs used with a piece of durable medical equipment (DME)
Some antigens
Injectable osteoporosis drugs
Erythropoiesis-stimulating agents
Blood clotting factors
Injectable and infused drugs
Oral End-Stage Renal Disease (ESRD) drugs
Parenteral and enteral nutrition (including intravenous and tube feeding)
Intravenous immune globulin (IVIG)
Most vaccinations such as:

Flu shots
Pneumococcal shots
Hepatitis B

Transplant and immunosuppressive drugs
Oral cancer drugs
Oral anti-nausea drugs
Self-administered drugs in a hospital outpatient setting
Medical Equipment
Medicare Part B will also cover the cost of any durable medical equipment (DME) your doctor deems necessary for your care.
In order to be considered DME, the equipment must be prescribed by your doctor and meet the following criteria:
Used for a medical reason
Durable, meaning it can withstand repeated use
Is of no use to someone who is not sick or injured
Used in your home
Typically, has an expected lifetime of at least 3 years
Medicare Part B (Medical Insurance) covers DME if your doctor prescribes it for use as a medical necessity in your home.
A few of the DME items covered by Medicare include:
Wheelchairs and scooters
Blood sugar meters
Blood sugar test strips
Commode chairs
Walkers
Walking canes
Nebulizers and nebulizer medications
Patient lifts
Oxygen equipment and accessories
Hospital beds
Transportation
Some individuals with Medicare may still be able to live fairly independent lives but are no longer able to drive and do not have access to an affordable means of transportation.
It is exciting to note that Medicare Advantage plans are now able to offer transportation services on a limited basis.
This means that these individuals will be able to maintain their independence by having transportation available that enables them to pick up prescriptions from the pharmacy and get to and from medical appointments.
And better yet, the plans can also include the delivery of hot meals to the individuals in their homes.
Plans vary in how often they provide these services, so you will want to be sure to check out the details of each individual plan before you enroll.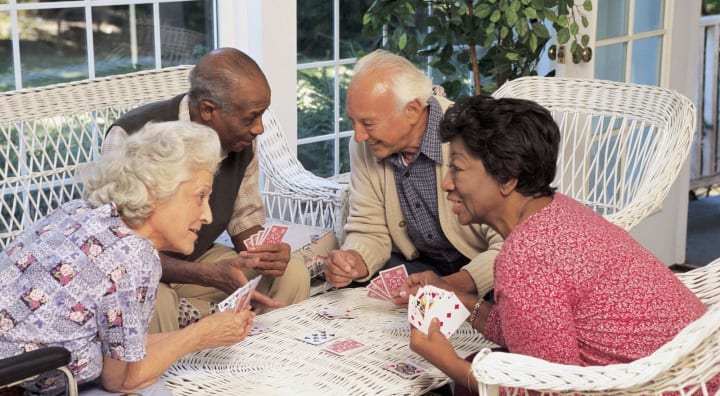 Coverage Under Medicare: Assisted Living vs. Skilled Nursing
We have looked at Medicare and assisted living coverage, but you may be wondering if there is any difference in Medicare coverage when it comes to assisted living vs. skilled nursing?
Medicare covers care in a skilled nursing facility for up to 100 days per benefit period, as long as you continue to meet the requirements for Medicare.
But what about after the 100 days are up?
Does Medicare cover assisted living costs following time spent in a skilled nursing facility?
No, traditional Medicare does not cover any assisted living cost, even after time spent in a skilled nursing facility.
Medicaid vs. Medicare: Assisted Living Coverage
Medicaid is a state and federal program designed to assist with the coverage of health care costs for individuals who have both limited income and resources.
Medicaid benefits are defined on a state-by-state basis, and the majority of state Medicaid programs cover some sort of assisted living cost for residents who meet the eligibility requirements.
Qualifying seniors will have access to the following Medicaid assisted living services:
Nursing care
Management of medications
Medical exams
Case Management
Medical assessments
How to Pay for Assisted Living Without Medicare Coverage
Don't let the lack of Medicare coverage dampen your hope for assisted living residency.
You or your loved one might be able to use some of the following resources to help cover assisted living expenses:
VA aid and attendance care
Reverse mortgage
Long-term care insurance
Medicaid
Is There Financial Assistance for Assisted Living?
You will be happy to know that some assisted living facilities offer financial resources that may be able to help you afford the cost of an assisted living community.
These services include options such as:
Real Estate Services, which can:

Provide a market analysis of your home
Stage your home for sale
Remove items from the property that are no longer wanted
Hold an estate sale
List and sell your home

VA benefits assistance
Long-term care insurance claim assistance
Home equity "bridge" loans
Senior Services of America: Providing Quality Care While Empowering Quality of Life for Seniors
Whether you are making plans for a move in the near future or down the road, Senior Services of America is here to help you each step of the way.
Your peace of mind and your loved one's quality of life are our top priorities.
Senior Services of America communities are dedicated to providing customer-oriented living and helping our residents enjoy their best life by staying engaged physically, emotionally, and mentally.