Factors to Consider When You Compare Assisted Living Facilities and How to Ensure You Make the Right Choice
Choosing how to compare assisted living facilities can be a daunting task.
With so many options available, how do you know which is the best fit?
To help make this process easier for you…
We have compiled a list of tips and questions to ask before making your final decision.
Keep reading to learn more about how to compare assisted living facilities.
How Do You Evaluate Assisted Living Facilities?
Assisted living facilities vary in their ability to meet the needs of residents.
So, when you are doing an assisted living comparison for your loved one, it will depend on your family's unique situation.
Below are a few questions to help guide your decision-making process:
What are my loved one's needs and how much care does he or she need?
How will the staff work with my family to meet those needs?
How often would we be able to visit?
Are there any medical facilities on-site that can help us out if something happens, such as an urgent care center for illnesses, etc.?
What is the staff-to-resident ratio and how often are they able to check in on my loved one?
How much do these facilities cost and how long can I stay with them?
Does the facility have family events planned throughout the year that you and other family members could join?
As you gain answers to these questions, you will notice that some facilities will be able to meet a person's needs and others may not.
How to Compare Assisted Living Facilities: 8 Things to Consider
As you seek to find a new home for your aging family member, it's important to consider all of the different options available.
To help you compare assisted living facilities you may be considering, we've compiled eight tips that will be helpful when evaluating these types of facilities.
#1: Know Your Needs
Knowing what you want in a new community can help streamline your search.
To make the best decision, it's important to understand what tasks assisted living communities are equipped to do for their residents.
Helpful tips:
Determine what is going to be important in an assisted living home.
Separate the negotiables (wants) from the non-negotiables (needs).
Prioritize your list of requirements as you begin evaluating facilities.
Only after taking the time to consider your needs will you be able to find the right community for your loved one.
Living Arrangements
Some assisted living communities have apartments and some have a homelike atmosphere.
To determine what type of living arrangement may be best for your loved one, consider the following questions:
What size unit will best meet your needs?
Do the apartments feel comfortable? (ie, too large or too small?)
Do you have a preference for the type of floors?
Are pets allowed?
Can you bring personal furniture?
Are there activities and programs on-site?
Medical Services
Assisted living facilities offer different types of care, from extensive support to just companionship or medication management.
To determine if the medical services will meet the needs of your aging family member, consider the following:
Is there free transportation to the doctor?
Are there on-site doctors or other medical personnel on staff?
Does the facility offer or arrange for delivery of prescriptions?
What is the protocol put in place if a resident's health deteriorates?
How often and how are health assessments done?
#2: Location Is Everything
When thinking about how to compare assisted living facilities, location is one of the most important factors.
Many people have a list of "must-haves" related to where they want their senior loved ones to live:
Close enough that kids and grandkids can visit often
A short driving distance from other family members or friends
Near public transportation, medical facilities, church, or familiar shopping stores
Something else to consider…
If there is a preference for a quiet residential neighborhood or a bustling city environment.
#3: Take a Tour
The next step in how to compare assisted living facilities is touring the location so you can assess how it feels.
Find out:
What's the general atmosphere?
Are residents active and engaged or do they look bored?
Are there any common areas that would be great for visiting loved ones – such as a library, dining hall, or gym?
What are the on-site safety and security procedures?

Pay special attention to the presence of fire extinguishers and sprinkler systems.
Know if there are measures in place for protecting people with Alzheimer's and dementia.

Are residents' rooms clean and decorated?
Are residents allowed to decorate their own apartments?
Are the outdoors and grounds available and safe for residents to walk around?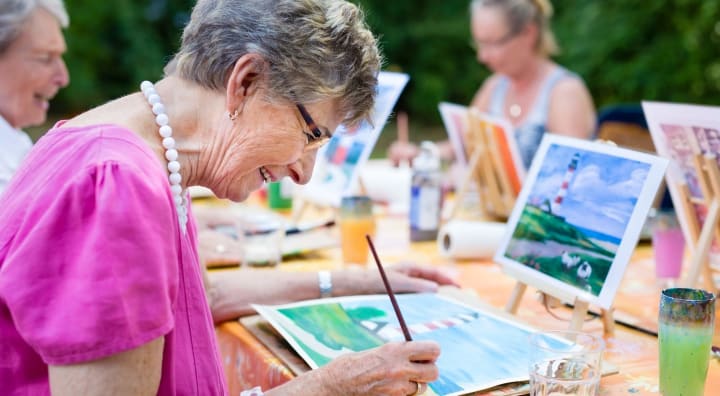 #4: Check Out the Activities Schedule
The activities schedule is how you'll know if the facility has enough to offer for your loved one.
A good sign of this is a wide variety of scheduled events such as:
Art
Pets
Music
Gardening
Movie night
Water aerobics
Sporting events
Religious services
Family themed dinner
Also, consider asking the following questions:
Which of the activities are offsite or onsite?
Can family members participate in activities?
How often do events happen during weekdays and weekends?
Do residents have a choice in when and how to participate?
Lastly, find out how many activities there are, how often they're offered, and what the hours of operation are.
#5: People-Watch
If you're comparing assisted living facilities, you may need to visit each of them and "people-watch".
Ask if you can attend an event, stay for mealtime, or even stay overnight.
You can learn a lot about an environment by observing how people interact with one another and their surroundings.
For example, you might find out that one facility has scheduled outdoor walks led by a staff member at least weekly while another may have only one group outing per month.
This could be important to know if you want your loved one to be active outdoors regularly.
As you observe, ask yourself:
How active are the residents?
How many of the residents seem content?
How involved is the facility staff with the residents?
What kind of relationships do residents have with one another?
How would you feel if this was your home?
Do the staff members seem to enjoy their work, or are they just going through the motions?
Essentially, you may want to pay attention to your "gut" feelings as you consider which assisted home facilities to rule out.
#6: Inquire About the Staff
One thing you'll want to take into account is how staff members treat people and how often they interact with residents on an individual basis.
You may ask questions such as:
How often do the staff members come in contact with residents?
What is the ratio of staff members to residents?
How are the staff members trained to deal with residents?
Do they do criminal background checks and check references?
You can also ask to see staff training manuals and find out how the facility hires staff.
#7: Licensing
Licensing is one of the most important things to consider when looking at how well a facility can care for your loved one.
To start, you'll want to find out if your state requires assisted living facilities to be licensed.
Not all states require the same things, so you'll need to know how your state defines licensing.
It's important to note:
How often a facility will be inspected
How frequently facilities update their staff training
The number of complaints about the care provided at the facility
You can visit American Health Care Association for more specific information on how licenses are defined in each state.
#8: Cost
Cost is another important consideration when comparing assisted living facilities.
Some facilities charge per day or month, while others will offer you a lease agreement based on how long your loved one plans to stay at the facility.
To better understand the financial costs, ask the following questions:
How much is the entrance fee?
What is the daily or monthly fee?
How much and how often can the fee be increased?
What would happen if, after a fee increase, you cannot afford to pay the higher fees?
Before making a final decision, take the contract home and look over it thoroughly.
It's also smart to compare assisted living costs for each facility by looking up their prices both online and in person.
There may be special financing options depending on where you get your information.
Senior Services of America Assisted Living Communities: A Home-Like Environment With Support When You Need It
If you're looking for a new home for your loved one, Senior Services of America offers assisted living communities that offer the best in care and comfort.
We provide personalized services to meet your needs, whether it be assistance with bathing or medication management.
Our staff is always available to help when you need it most.
You deserve the best.
Rest easy knowing that our staff will take care of all your aging family member's needs so that your family can enjoy life without worrying about anything else.
With us, there are no worries and no regrets because we'll make sure everything is taken care of for your family.
Find your nearest community to speak to one of our advisors.