What to Bring to Assisted Living: A Guide to Help Ease the Transition to Your New Home
You've faced the difficult task of choosing to move to an assisted living community.
Whether it's you or your loved one, the next transition into this new home can be intimidating.
Combing through the years of memories associated with the volumes of accumulated belongings is overwhelming.
You may find yourself asking –– What should I bring to assisted living?
To help answer this question…
We've compiled a list of five tips to help you downsize your belongings.
Keep reading this guide to learn what to bring and what not to bring to assisted living.
A Moving to Assisted Living Checklist: 5 Categories of Items You Should Bring Along
#1: Personal Items
Personal items are essential to making your new home feel like home.
For the first few nights before boxes get fully unpacked, it's a good idea to pack a bag with things like …
A change of clothes
Pajamas
Medications
Toiletries
Eyeglasses; and
Hearing aid
… and anything else you may need immediately.
Other personal items to be sure to box up and bring along include:
Photos and keepsakes
Purses or wallets
Jewelry or watches items worn daily
Cane, walker, or wheelchair; and
Copies of legal and financial paperwork
#2: Home Furnishings and Decor
Decorative items that will make the new space feel like home include:
Plants
Pictures
Mirror
Clock or alarm clock; and
Storage boxes and organization items
Be sure to plan what furniture items will fit before deciding which furnishings to bring.
Consider bringing smaller furniture items like:
Bed
Side table and lamp
Dresser
Small sofa
Recliner or chair; and
Table or desk
#3: Entertainment
Senior Services of America offers communities that provide a variety of entertainment activities and amenities essential to keeping your loved one engaged including:
Crafts and cards
Social, recreational, and life enrichment activities; and
Exercise and wellness programs
The community you've chosen may have many activities or you may want to keep a few items for entertainment in your home like:
Television
Computer
iPad
Chargers
Radio
Books
Puzzles
Playing cards; and
Hobby supplies
#4: Housewares
Depending on whether you or your loved one are moving to an assisted living facility or nursing home, they may need a few items for a small kitchenette or just to make an afternoon cup of coffee.
Some items to consider include:
Kitchen supplies
Coffee maker; and
A small selection of tableware
You may want to include other household items like:
Towels
Linens – two sets so one can be washed at a time
Hangers
Hamper for dirty clothes; and
Extended shoe horn
#5: Cleaning Supplies
Not all assisted living facilities are created equal, especially when different levels of care are considered.
Our communities provide many services including both housekeeping and laundry services.
However not all assisted living communities offer housekeeping services.
Depending on the services offered at your facility, you may want to keep a few items on hand.
For small unexpected messes or quick clean-ups you will need:
Broom and dustpan
Surface wipes or multipurpose spray
Stain removal spray
Paper towels and kitchen towels; and
Dish soap
What Should You Not Take Into Assisted Living?
Preparing or helping your loved one prepare to move to an assisted living community often means downsizing to a smaller space with limited storage.
It's important to make sure the space is optimized to work for their new lifestyle.
Avoiding clutter and unnecessary items is the name of the game.
Here are some examples of items we suggest you avoid bringing to assisted living:
Valuable items – If you're concerned about something valuable breaking or going missing, leave those treasured items with a trusted loved one or in a safety deposit box.
Oversized furniture – Keeping the space furnished with appropriately sized furniture makes it easier to move around.
Throw or area rugs – A likely trip hazard, keep the floors clear of any unnecessary items.
Decorative items that sit on the floor – Another trip hazard, these items are sure to get damaged at some point.
Collectibles and knick-knacks – Shelf and surface space will be limited so pair it down to absolute favorites.
Chairs with wheels or without armrests – Comfort and function are key when choosing furniture. Wheeled chairs can cause injury and armrests provide a comfortable way to rest when relaxing.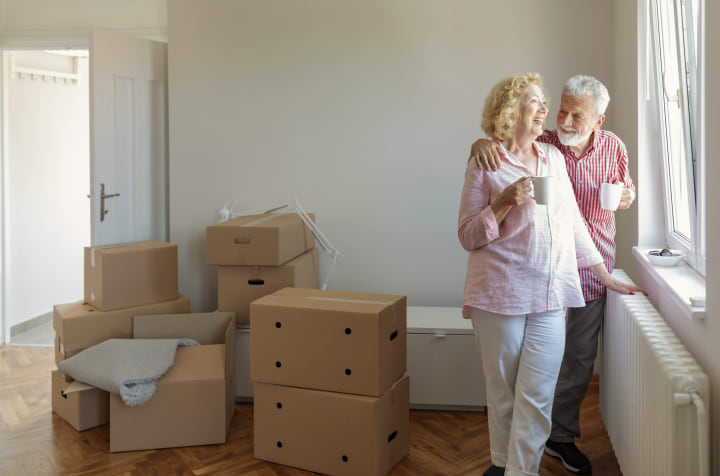 5 Tips to Help When Downsizing to Assisted Living
Downsizing to assisted living can be a daunting task, especially if you've lived in a bigger home and accumulated years of comforting, memorable items over time.
Now is the time to declutter and organize your things into piles to keep, sell, give, or donate.
Here are five tips to help you prepare and downsize like a pro to ensure you're bringing exactly what you need, and nothing more.
#1: Get Help With Packing and Moving
Sometimes an objective second opinion can help you decide between what to keep and what to let go of.
The more hands to help, the better.
If downsizing your or your loved one's home is too daunting of a task, you can always enlist the help of a senior move manager who specializes in the transition and relocation of older adults.
If you find yourself in need of more comprehensive assistance, consider hiring a professional geriatric care manager who can help with everything from:
Assessing the level of care your parents need
Finding senior communities
Navigating the application process; to
Packing and preparing for the move
#2: Be Mindful of Your New Space
Keep in mind that a senior assisted living apartment is much smaller than a family home.
Consider the size when decorating to avoid overcrowding and possible injury from furnishings that can become trip hazards.
The best way to design appropriately for the size of the space is to look at the floor plan for the apartment.
Most assisted living communities will provide the floor plan and after carefully measuring furniture it will allow you to see which items will fit.
Pro tip –– use multifunctional furniture, like an ottoman with storage to make the most of limited storage.
Keep pathways clear of items like …
Furniture
Rugs; and
Decoration
… to allow room for walkers and wheelchairs.
#3: Sort Your Items Purposefully
Take a page from the decorating and organizing pros by sorting your items purposefully.
Follow these easy steps to declutter and downsize:
Divide items into groups or boxes labeled:
Keep
Trash
Donate; and
Sell
If you're helping a loved one sort their belongings, pick up an item and help them determine which box to place it in. This step is important to make sure they feel involved in the decision-making.
If they are having a tough time making a decision, set the item aside and move on to the next.
Take your time and be patient as you sort through their fond memories and personal things.
Box up trash and donations to be removed from the house. This will free up space and avoid the temptation to reclaim items.
If the task feels overwhelming, break it down into smaller manageable amounts of time.
This process may feel time-consuming, but as time goes on your loved one should be able to move through items more easily.
Pro Tip – If you have multiples of items, keep one and get rid of duplicates.
Except for things like …
Towels
Bed linens; and
Dishes
… try to streamline clothing, decorative, and houseware items to just the favorites and consider selling or giving duplicates to a family member.
#4: Take Pictures of Items You Aren't Keeping
It's natural to experience difficulty parting with an item.
We've all built an emotional connection to things that bring about warm memories.
If your loved one is having trouble letting go of an item, you might suggest taking a picture.
You can always take the photos and create a scrapbook or photo book as a thoughtful housewarming gift for them in their new home.
#5: Stay Positive
Making the move into an assisted living community is a huge life transition.
If you're helping your senior take this step, acknowledge that this process can be difficult for them.
Give this moment the attention and care it deserves.
Your loved one may be experiencing a storm of emotions including feeling:
A sense of loss
Sad
Upset
Confused; and
Nervous
This process won't be easy, even if they agree that the move is for the best.
Give grace and remember that what may look like nothing to you, could have significant meaning for them.
Find All the Comforts of Home With Assisted Living at Senior Services of America
The transition from home to assisted living can be difficult, but our communities are designed to provide residents with comfortable, home-like environments.
You can feel confident knowing that we strive to enable our residents to maintain their independence while offering supportive services like:
Personal care and grooming
Nutritious meals
Housekeeping; and
Wellness and socialization activities
Downsizing your personal space is made easier when you choose a Senior Services of America community, where you will find a rewarding lifestyle with common spaces like:
Dining rooms
Recreation rooms
Sitting rooms
Craft and card rooms
Exercise and physical therapy rooms
Spas; and
Beauty and barber salons
We design a service and care plan tailored to the needs of each individual to provide our residents with a positive experience every day.
Find your nearest community to speak with one of our team members and find your best solution.