A Comprehensive Guide to Understanding Assisted Living vs. Skilled Nursing
Choosing the best care for yourself or your aging loved one can be an overwhelming process.
Is an assisted living facility the best choice, or would skilled nursing be a better option?
Understanding the differences between assisted living vs skilled nursing will help make this important decision much easier.
This guide tells you everything you need to know about the difference between skilled nursing and assisted living.
What's the Difference Between Assisted Living and Skilled Nursing?
Do you have an aging loved one who has become unable to care for themselves at home?
Or maybe you recently suffered a fall and no longer feel comfortable living on your own.
You might be wondering about the pros and cons of a skilled nursing facility vs assisted living.
While the terms are frequently used interchangeably, assisted living and skilled nursing represent two distinctly different services.
Here are some of the ways assisted living typically differs from skilled nursing:
What Is Assisted Living?
An assisted living community (also known as a retirement community) is a residential facility designed to give older adults a healthy social environment with a calendar full of life-enriching activities, all in a stay-at-home setting.
Think of assisted living as a cruise ship with medical assistance that is available if you should need it.
Assisted living is the perfect option for older adults who are mostly independent but may occasionally require assistance with day-to-day living.
Harvey, a recent widower, has become increasingly lonely living on his own.
He and his wife Marge used to enjoy an active social life, including:
Game nights with friends
Nightly walks
Dining out, and
Enjoying concerts by the local symphony.
Although he has no outstanding health issues, Harvey just doesn't feel like making the effort to socialize and enjoy the activities he once did.
Harvey is the perfect candidate for assisted living. There, he can immerse himself in a close-knit community and enjoy a wide variety of social activities.
What Is Skilled Nursing?
A skilled nursing facility (also referred to as a nursing home) is an in-patient medical treatment and rehabilitation center staffed with trained medical professionals.
Patients receive 24-hour medical supervision due to physical or mental conditions that leave them unable to care for themselves.
A stay in a skilled nursing facility is the equivalent of a long-term hospital stay.
Grace lives with her husband, Robert, in the same house where they raised their three children.
As a result of a recent fall, Grace suffered a broken hip, which resulted in surgery. While the prognosis for recovery looks good, right now Grace needs considerable help in her daily routine and will require regular physical therapy sessions.
A skilled nursing facility will be able to meet Grace's needs for assistance and therapy, helping her to recover and return home as soon as possible.
Short-Term vs. Long-Term Care
Short-term skilled nursing generally involves living at the facility for a short amount of time to get:
Intensive support
Regular medical attention; and
Rehabilitation services.
Long-term care, on the other hand, is for patients who require hands-on supervision and care 24/7 but don't necessarily need skilled nursing care.
Assisted Living Versus Skilled Nursing: 7 Main Differences
Here's the deal:
To be able to make an honest assessment regarding you or your family member's specific needs, you have to understand the difference between skilled nursing and assisted living.
And if the task of choosing between assisted living vs skilled nursing seems just too daunting, Senior Services of America is here to help.
With over 23 communities in eight states, Senior Services of America will help you find the perfect option for you or your loved one.
1: Type of Facility
One of the obvious contrasts between skilled nursing and assisted living can be seen in the difference in each type of facility.
Whether you or your loved one requires 24-hour medical supervision or prefers independence, there are facilities available to meet your needs.
Assisted Living
An assisted living community is a residential facility where elderly adults are free to pursue an active lifestyle in a home-like setting.
Assisted living communities may offer:
A residential atmosphere
24-hour supervision with nursing assistance as needed
Private living accommodations for individuals or couples
Restaurant-style dining
Exercise facilities and wellness programs
Social activities such as clubs, themed dinners, movies, games, crafts, and sporting events
Libraries
Church services
Barbershops and beauty services
Outings and transportation to local shopping, museums, and theaters
Assistance with daily living activities such as laundry and housekeeping
Community members are often also referred to as "residents" rather than "patients" in assisted living facilities.
Skilled Nursing
A skilled nursing facility is first and foremost a medical facility and will resemble such.
Although it is a step-down from the hospital, a skilled nursing facility operates in much the same way and has a similar atmosphere.
Residents will be referred to as "patients" or "clients" in this type of facility.
A skilled nursing facility will most likely have:
A medical feel
The option for a private or shared room
Cafeteria-style dining
24-hour supervision and nursing care
A predetermined schedule with limited social activities such as movies, church services, and games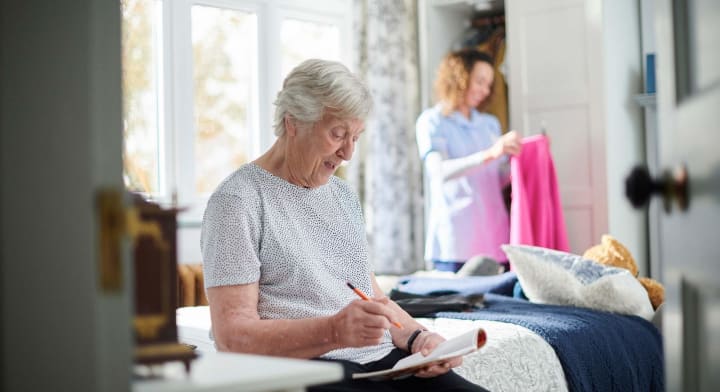 2: Level of Care Required
When deciding between an assisted living facility vs skilled nursing, much of the decision will be based upon the level of care required.
Assisted Living
Individuals living in an assisted living residence must be stable and predictable and not require round the clock care.
Residents can maintain their independence while having supportive services available should the need arise.
Residents in assisted living may:
Require periodic medical assistance
Need a helping hand with daily tasks such as bathing and dressing
Need medication reminders or administration
Be looking for a maintenance-free lifestyle without having to do home repairs or lawn care
Desire and active lifestyle but not want to have to be concerned with transporting themselves
Want to live in a closely-knit community
Currently enjoy good health, but know they may need more help in the future
Skilled Nursing
A skilled nursing facility, on the other hand, is for individuals requiring a significant amount of medical care for an extended time period.
For example, the individual may need:
Constant care due to a chronic condition or deteriorating health
Rehabilitation due to a significant injury
Assistance feeding themselves
To have nutritional meals provided for them
IV medications
A ventilator
Respiratory therapy
Injections
Catheter care
Wound care
Specialized rehabilitation services such as speech, physical, occupational, respiratory, cognitive, and Vocational therapy
Regular monitoring of vital signs
Specific medical equipment
Administering of medications
3: Goal and Length of Stay
The next two factors to consider when deciding between skilled nursing care vs. assisted living are the goal of care and the length of stay.
Assisted Living
When it comes to assisted living, the goal is to give residents the tools they need to maintain their independence in a personalized, homey setting while providing supportive services as needed.
Assisted living is considered to be a long-term housing option.
Skilled Nursing
A stay in a skilled nursing facility is the equivalent of an extended hospital stay with the goal of providing on-site rehabilitation for those who can't be cared for in a home environment.
Often, this is a short-term stay with the goal of rehabilitation in hopes of returning a patient home or to an assisted living facility.
At times, a skilled nursing facility may be a permanent placement for a patient having significant medical or physical needs.
4: Type and Availability of Staff
As you may expect, another difference between skilled nursing and assisted living is the type and availability of staffing.
Generally, both types of facilities will have:
An executive director
A medical director
Nursing staff including registered nurses and certified nursing aides.
Occupational therapist
Physical therapist
Speech pathologist
Activities director
Housekeeping staff
Maintenance workers
Dining room coordinator and staff
Volunteers
Assisted Living
Most assisted living facilities will have a resident nurse who oversees certified nursing aides (CNAs) and licensed practical nurses (LPNs) as well as patient healthcare as a whole. Some facilities may also offer an onsite health clinic.
Skilled Nursing
Since it is a medical facility, residents in a skilled nursing facility receive round-the-clock care and monitoring by specially trained medical staff.
A skilled nursing facility is the best option for a senior needing medical treatment from a registered nurse 24/7 or requiring daily therapy services.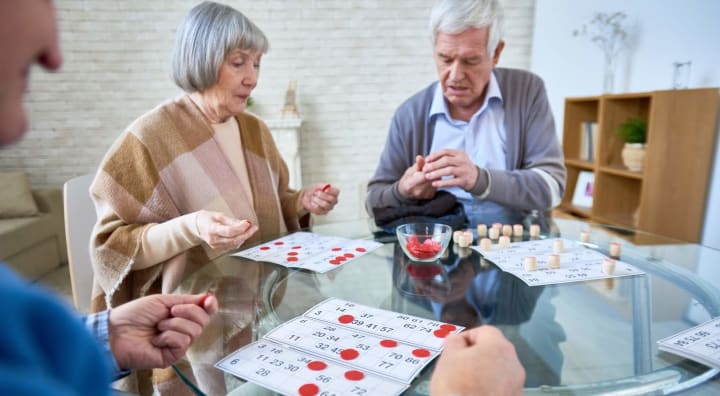 5: Independence Level
Are you wondering about the level of independence for residents in assisted living vs. skilled nursing?
Assisted Living
Outside of things such as meals and planned events, when living in an assisted living community, the senior is free to set their own schedule.
Skilled Nursing
Due to the fact that it is a medical facility, those living under skilled nursing care will follow a regimented schedule including specific times for:
Medication
Meals
Therapy; as well as
Bedtime.
6: Financial Impact
Most will agree that finances are a huge concern.
How do assisted living vs skilled nursing costs vary?
Assisted Living
While the national average cost for assisted living care in 2020 was $4,300 per month, assisted living costs differ from one community to another depending on the:
Size of the residence
Types of services needed; and
Part of the country you live in.
Skilled Nursing
Due to the need for the round-the-clock medical care required for skilled nursing residents, skilled nursing costs considerably more each month than assisted living.
The national average cost for a skilled nursing facility in 2020 was:
$7,756 per month for a semi-private room
$8,821 per month for a private room
7: Insurance Coverage
Let's take a look at some options available that may help offset a portion of the cost of senior living.
Assisted Living
Depending on the state of residence and the individual's enrollment, Medicaid typically pays for the following assisted living services:
Personal care assistance for bathing, dressing, toileting, and eating
Transportation
Housekeeping services like shopping for essentials such as groceries, laundry, housekeeping, and meal prep
Case management
Personal emergency response systems
While Medicaid does not pay for room and board in an assisted living residence, many states offer an optional SSI state supplement. Click here to get in contact with the Social Security Administration office nearest to you for more information.
Skilled Nursing
Skilled nursing care may be for any duration of time and must be ordered by a doctor in order to be covered by:
Medicare
Medicaid
The VA; or
Private health insurance.
Medicare covers up to 100 days in a Skilled Nursing Facility per benefit period. If a stay in excess of 100 days is needed, the cost must be paid out of pocket.
Skilled Nursing Facility vs. Assisted Living: State Regulations
Patients in skilled nursing facilities are protected by state and federal regulations to ensure quality of care and prevent abuse. State regulations for both skilled nursing facility regulations and assisted living regulations are decided upon by each state.
Senior Services of America: Compassionate Solutions for Both Assisted Living and Skilled Nursing Facilities
Whether you've made your decision on the best type of care or are still weighing the options, Senior Services of America can help.
How?
We're here to support, guide, and advocate for you and your family every step of the way.
We'll help you find the place that's perfect for you or your loved one.
We design a service and care plan that is tailored to the needs of each individual.
The goal of our nurses, caregivers, and team members is to provide our residents with the best possible customer service resulting in a positive experience every day.
Our team members are available to help you 24/7.