How Much Does Senior Living Cost? A Comprehensive Guide to Assisted Living
You've been researching "how much does senior living cost," and as your search for care continues, you become very aware that comparing prices isn't as easy as it seems.
You're unsure why individual facilities are priced the way they are, and you really aren't sure what type of care to look for or what should be included in senior living costs.
We understand. Comparing prices of senior living facilities isn't quite as simple as searching for a car — and even that doesn't seem so simple these days.
In this guide, we're sharing our insights on:
how much senior living costs
what goes into those costs, and
how you can prepare to find the best care for you or your loved ones.
What are Senior Living Facilities?
Senior living facilities often have a stigma of this military model efficiency—the scene with small double bedrooms located in narrow, cold, quiet hallways. Privacy is limited, livelihood is gone, and your loved ones are spending their final years of life feeling isolated.
Fortunately, today, senior living facilities have been made for more. Quality senior living facilities give seniors:
Peace of mind
Empowerment
Independence, and
A sense of home.
How Much Does it Cost to Live in a Senior Living Facility?
The cost of living in a senior living facility varies considerably based on:
Location
Personal care options
Level of care needed, and
Whether the potential resident has access to resources to help cover the cost of the facility
We'll touch more on these factors later, but the key takeaway is this: every type of senior living community will offer different services.
That's why it's essential to do your research before choosing so that you understand which is right for your (or your loved ones) specific wants and needs.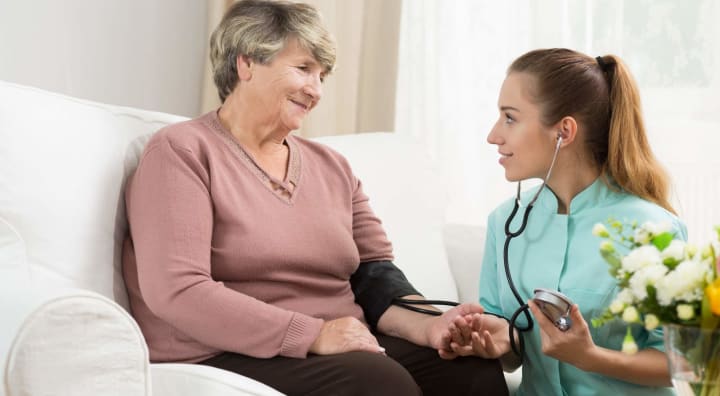 Average Cost of Senior Living
The average cost of living in an assisted care facility can range anywhere from $1,500 to $10,000 a month. And while the latter may seem astronomical, it's important to consider how much senior living costs, even from home.
When looking at the average cost of senior living, we recommend you take a look at the expenses they are already paying for, whether that be…
A mortgage
Utility bills
Grocery bills
Cable and internet bills
In-home healthcare bills
Prescription costs
Etc.
…and determine precisely how much money is already going toward living costs.
Now, add in the cost of your (and your loved ones) quality of life, relationships, etc. Will you or your loved one benefit more from interacting with others every day in a senior living facility? Would you have a better relationship, more time to enjoy being together, etc., by making the switch?
Let's look at two different scenarios where a senior living center could be beneficial:
Scenario 1:
Meet Barbara and John. They've recently both turned 74 and are in reasonably good health. They can complete most activities of daily living with minimal assistance.
Occasionally, John needs help with cleaning areas of their home and can no longer do laundry and yard work. He needs assistance getting up and down from chairs, and Barbara is unable to assist him.
In this case, having an in-home care assistant might be the best option financially. Barbara and John only need occasional help but are still living in their home safely, and their quality of life isn't affected.
But, if Barbara and John chose to move into an assisted living community, they'd have readily available assistance as they needed. Instead of paying for all the bills they'd typically pay in their home, it would be included in their monthly rent. Leaving them with less stress and more time to do activities they enjoy.
Scenario 2
Andrea's mother still lives in her own home. She's 92, but her health and memory are declining.
A nurse's assistant comes to spend the day with her to complete daily living activities (ADLs) like:
bathing
going to the bathroom
getting dressed, and
assistance with transferring from sitting to standing or standing to lying down.
The nurse's assistant leaves every evening when Andrea gets finished with work, but Andrea's home life is starting to be affected. She hasn't seen her children for more than a few hours a week, and she's considering reaching out for full-time help.
The guilt and added responsibilities were starting to put a damper on her relationship with her mother, but she knows that 24/7 care on top of the other bills that come with owning a home will get costly.
When 24/7 care is essential in cases like this, an assisted living center may actually save you money.
But why is the average cost of senior living facilities so high?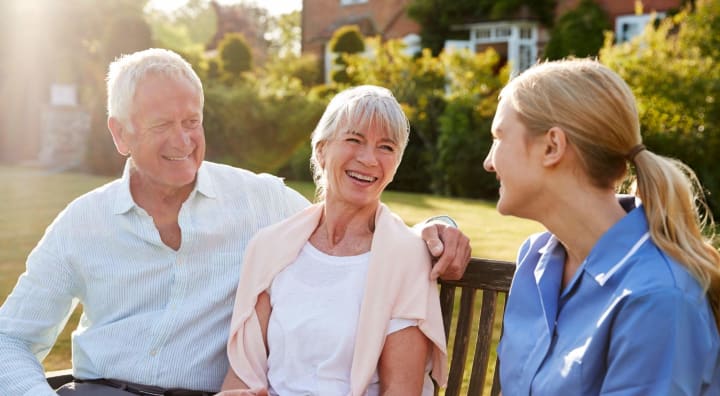 Senior and Assisted Living Cost Breakdown: 4 Factors That Influence the Price
While researching senior living costs, it's beneficial to know why prices are as high — or as low — as they are.
1: Level of Care
The level of care a patient needs will significantly affect senior living costs. And it's typically the number one factor that affects the average cost of senior living.
Because levels of care are vastly different, several types of senior living facilities have been established, and the costs associated with them vary.
The types of senior living facilities include:
Independent living communities — seniors who require little to no daily assistance typically want a more "carefree" lifestyle with amenities and activities available to them. In these types of communities, seniors move into a house, townhome or apartment, and have an attendant on-site who can help them as needed.
Assisted living communities — seniors who choose assisted living communities may need assistance with daily living activities like bathing, dressing, toileting, etc. Assisted living communities, like ours, also have 24-hour on-site support with a trained care team. Most assisted living communities have amenities similar to those in independent communities. The average cost of assisted living facilities is often higher than those of independent living facilities.
Skilled care facilities— skilled nursing facilities offer 24/7 support, assistance with any ADLs, and a multitude of licensed healthcare professionals on sight to help with physical and occupational needs. Skilled nursing is usually for short-term or rehabilitative stays.
Memory care facilities — memory care facilities offer 24/7 supervision and support, just like in skilled care facilities. Unlike skilled care facilities, memory care facilities are staffed with specially trained professionals and provide a calm and comfortable setting for those with diseases like Alzheimer's or dementia.
Typical senior living costs in skilled care facilities or memory care facilities are more costly because of the level of required care and the amount of staff needed to support the residents. If your loved one needs 24/7 care, a senior care facility may seem costly, but as mentioned earlier, it will save you money long term.
2: Geographical Location
Like many things, from real estate to gas prices, where you live can ultimately play a role in senior living facilities' cost.
3: Amenities
Amenities vary from facility to facility. What residents have available to them also varies based on the level of care they need — and in some facilities, like those with lower quality of care, residents aren't aware or don't have many amenities.
Typical amenities that are covered in monthly senior living costs may include:
Transportation
Entertainment — some assisted living communities even have their own movie theaters and small dining facilities outside of the standard dining room
Private dining areas
Barber and beauty shops
Linen services
Medication management (a tricky "amenity" that can be priced as one fee, or may be a tiered system, never be afraid to ask about how services are priced at facilities)
Fitness centers
Activity rooms
Swimming pools
And more
Senior living monthly costs are affected by the different amenities each facility has available to residents.
4: Quality of Care
As you know from many other instances in life, lower cost can also mean lower quality. And when it comes to care, every person deserves the best of the best.
Don't settle for less than superb care for you or your loved ones. At Senior Services of America, we believe in providing the best possible care, no matter what. We strive to provide our residents with the best service and care every day.
Respect and integrity are among our core values, and our values shine through in our quality of care. We want our residents to feel at home. Are you ready to learn more about our facilities? Contact us today to learn more about your new home away from home.
What to Look for When Searching for How Much Senior Living Costs
If only searching for the right senior living facility was as easy as opening a spreadsheet, asking "How much does senior living cost at your facility," and recording the answer on your sheet to compare numbers.
Unfortunately, as you've probably realized from reading so far, many things go into the cost of senior living. To know exactly what costs you or your family member will incur, ask some of the following questions:
How much is the monthly fee?
How much are the care costs?
What is included in the monthly cost?
Is there an entrance fee?
Do you accept Medicaid?
If you accept Medicaid, do I have to pay privately first?
Does Medicare cover any part of my stay?
How often do you increase the rent?
If I run out of money, do I have to move?
What if My Loved One Can't Afford the Cost of Senior Living Facilities?
Often, families interested in senior living facilities base their decisions on assumptions.
The most common assumption:
"The cost of senior living facilities is too high; my loved ones cannot afford the care."
The reality:
The numbers are intimidating, but some different assets and funds can be utilized to pay for senior living monthly costs that many people aren't aware of. Personal funds such as stocks, bonds, social security benefits, and pensions are traditionally how many people pay for senior living costs.
How Can I Pay for Assisted Living With No Money? Resources You May Not Know About to Cover Typical Senior Living Costs
If personal funds have already been used or are non-existent, there are other resources available to cover the costs, including:
Reverse mortgages
Long-term care insurance
Medicaid
VA Aid and Attendance Care
Keep reading to learn more about if you or your family member(s) may be able to use one or more of these resources to cover senior living costs.
Reverse Mortgage
Suppose savings, income, and other personal funds have been depleted, and selling your home is out of the question. In that case, a reverse mortgage may be another option to help pay for typical senior living costs, including different long-term care facilities.
Using a reverse mortgage to pay for typical senior living costs involves converting your home's equity into cash payments. Be sure to talk with your financial advisor or banker before using this option, as there are stipulations that come with it.
Long-Term Care Insurance
Policies offer many different coverage options, but long-term care insurance is another resource available to cover senior living costs, whether in an assisted living facility, a skilled nursing facility, etc.
If you are unsure about your long-term care insurance details or are interested in creating a new policy, contact your insurance company to get started.
Veterans Pension Benefit with Aid and Attendance Allowance
This benefit is one most veterans are unaware of, but it can be beneficial to veterans who are looking to, or in need of having to, move into an assisted living facility.
The Veterans Pension Benefit with Aid and Attendance Allowance provides necessary financial assistance to veterans — and their surviving spouses — who need help with daily living activities.
This benefit can be used to help with in-home care, assisted living, skilled nursing, and senior living facilities.
Qualifying veterans and their spouses can receive $2000+ a month towards their typical senior living expenses.
Medicaid
One of the most common ways typical senior living costs are paid for is using Medicaid. If personal assets have been depleted, Medicaid may come into play.
To qualify for Medicaid assistance, the person applying can only have $2000 or less in your bank account, and as stated previously, no additional assets to use.
When searching for a senior living facility, be sure to ask if the facilities you are interested in accept Medicaid. Some facilities accept it but can only offer so many rooms to Medicaid recipients, while others do not accept it at all.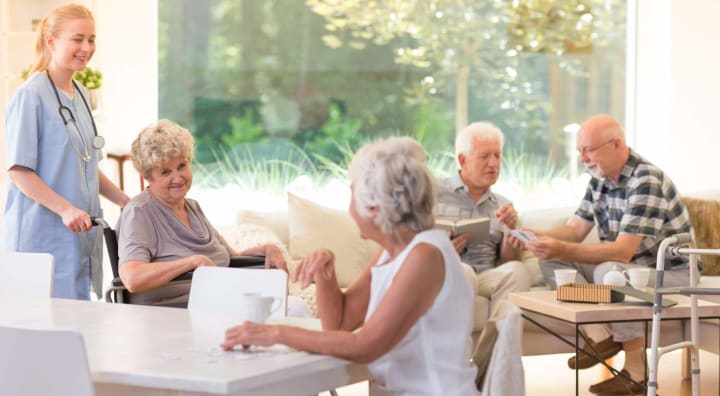 Is the Cost of Senior Living Facilities Your Biggest Concern?
For many, senior living facilities' cost is a major hurdle, but it's not the thing that's truly affecting their decisions about choosing to change their living situation.
Feeling apprehensive about taking steps towards moving into a senior living facility, or moving your loved ones into one, isn't abnormal. Many people who come to us with questions about making the move are stuck on stigmas of the old school "nursing homes," senior living communities, and assisted living facilities.
Most are concerned about living a dignified, independent lifestyle after entering a senior living facility. Feeling as though their freedoms will be taken, and their quality of life will be diminished.
But it doesn't have to be that way.
Senior Services of America's Care Facilities: We Run on Integrity & Empowerment
Senior Services of America understands your concerns, and we encourage you to express your concerns with us.
What does the quality of life look like for you or your family members? Does it mean cooking the family favorite anytime they come to visit? Maybe it means going on drives along the coast or heading to the grocery store every Sunday.
Quality senior living facilities, like Senior Services of America facilities, put you and your loved one's quality of life at the forefront of our minds.
We believe in empowering our residents to continue living the way they want to while also empowering our staff to maintain high care standards. We're here when you're ready to learn more about our communities, meet our team, and get a feel for what quality care and high standards of senior livinglook like.