How to Motivate Seniors to Participate in Activities
When the time comes for seniors and their families to make a decision about senior living communities, the concerns that may come to mind can be overwhelming and downright worrisome.
Will they still be happy, engaged, and able to enjoy life as they always have?
Or, maybe you already have a loved one in a care facility and you worry that they're not living the life they once loved.
In this post, we'll address the importance of enrichment activities and how to motivate seniors to participate in activities that will positively impact their transition to senior living.
Asking the right questions — before and during senior care — can drastically reduce the stress and apprehension that comes with choosing a senior care facility for your loved one.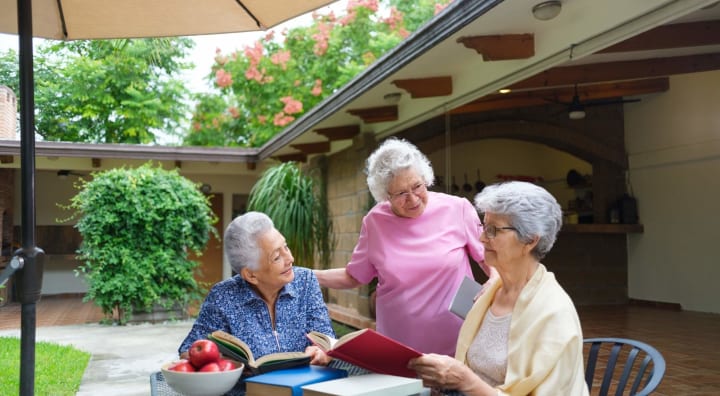 Enrichment Activities for Seniors: Why They Matter
When you think of enrichment activities at a senior living facility, the depressing vision of a room full of seniors dabbing bingo cards may come to mind.
But, this shouldn't be the case.
Enrichment activities will vary from community to community, but the purpose for the activities remains the same, to stimulate seniors physically, cognitively, and socially.
But, most importantly, the activities available to seniors must also enrich their souls and provide a source of daily happiness. Moving away from the home they know and love can cause anxiety and uncertainty — but it doesn't have to be that way.
The right senior-living facility will offer a host of activities for any interest and a recreation director ensuring that the activities are both beneficial and enjoyable.
At Senior Services of America, we have communities that offer both assisted and independent living options for seniors, as well as memory care services. Our mission is to provide life enrichment and a positive daily experience for all of our senior residents.
3 Benefits of Activities for Seniors
As seniors age, it becomes easy to get caught up in mundane tasks — like watching television or flipping through old magazines — but these are not truly stimulating or beneficial activities.
Boredom can easily set in, and without their usual chores, such as meal-making or housekeeping, there are more minutes in a day to fill.
The goal, in assisted-living facilities, is to keep the residents entertained and active with diverse activity offerings that contribute to overall health and wellness.
1: Better Cognitive Function
Activities that require mental focus will not only improve the physical state of the brain, but they contribute to memory, reasoning abilities, and the continued ability to learn.
Engaging the mental and intellectual faculties has also been proven to slow the progress of Alzheimer'sdisease and other types of dementia.
Assisted living facilities should offer a wide variety of activities that provide intellectual stimulation, such as:
Board games
Reading
Word or number puzzles
Musical instruments
Jigsaw puzzles
Card games
Dancing
And more
When combined with social and physical activities, these sorts of intellectually and mentally engaging activities will go a long way in improving the emotional health of your senior as well.
2: Improved Health
It's common for seniors and their families to be apprehensive about assisted or senior living facilities because it's a major life change that is often associated with a loss of independence.
But, that isn't always the case. In fact, most often seniors are encouraged to continue with daily living activities such as, getting dressed, brushing teeth, and washing up.
Even in an assisted living facility, seniors who aren't capable of doing everything on their own should still be given the opportunity to try.
When independence is nurtured and encouraged, seniors are more likely to want to take care of themselves which ultimately results in feeling better — both physically and emotionally.
3: Socialization
We've all heard the horror stories and can conjure up the image of our own loved one sitting in a small, stuffy room, surrounded by four white walls, and one word comes to mind: loneliness.
Facilities that offer consistent and varying socialization opportunities greatly reduce the likelihood that feelings of isolation, loneliness, and even fear could start to creep in.
With an active social life comes a renewed sense of purpose and meaning, and can give seniors much-needed confidence in their new living situation.
Social activities, such as…
Community gardening
Cooking classes
Book clubs
Card and board games
Dancing lessons
Taking walks
Caring for animals; and
Painting or crafts
…are just a few of the ways seniors can enjoy the company of others.
In many cases, the elderly may be leaving their spouse behind at home — or even recovering from the death of a spouse — and might need some encouragement to get involved.
This is why it's extremely important that any activities offered cover a wide variety of interests.
How To Motivate Seniors to Participate in Activities
Offering activities to seniors is only one part of the equation — an important part — but equally important is their motivation to participate.
So, what motivates the elderly to get involved in the activities that will ultimately improve their overall health and experience?
If your senior is at home or living in a long-term care facility, helping them find motivation may seem difficult. Whether it's a lack of confidence in their abilities, or possible pain and discomfort, the elderly are the least likely to engage in activities.
Support and encouragement are important, which is why Senior Services of America has worked so hard to create an environment that inspires our seniors to reach their full potential.
Our dedicated recreation teams create…
Wellness and exercise programs
Life enrichment activities; and
Social and recreational activities
…that cover a broad spectrum of interests, skills, and abilities. All within a supportive and encouraging atmosphere that our seniors are proud to call home.
So, what can you do to help motivate your loved one to participate in activities within their current or new home environment?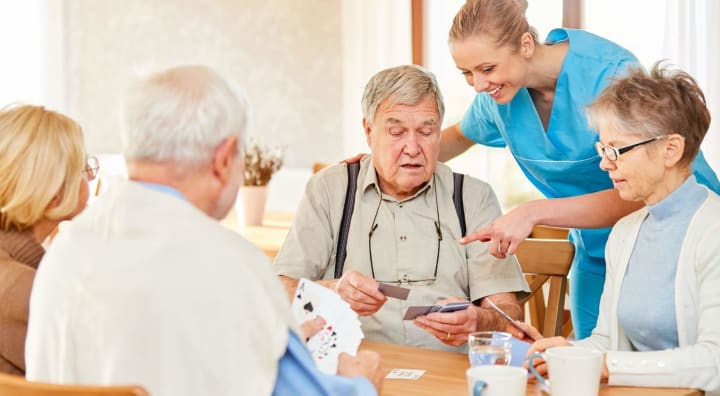 Recognize Their Likes and Dislikes
Remember what your loved one liked to do before the need for assisted or senior living. Are they still able to engage in that activity, even if it's on a more limited basis?
Let's take Gwen and her mother Agnus, for example. Agnus was once an avid painter, enjoying long summers evenings at the lake where she would paint the beautiful scenery.
After Agnus lost her husband, she stopped painting. She gave up and let that joy in her life become a thing of the past.
But, when Gwen and Agnus decided it was the right time for Agnus to move into an independent senior living facility, the first question she asked is whether they offered arts and crafts, specifically painting.
Gwen wanted to know if there were activities that would be possible, or even beneficial to Agnus.
Now, Agnus gets together with her friends at the senior living facility and they paint together. She feels youthful when she dips her brush in fresh paint and allows her hands to move across the canvas.
By offering both encouragement and access to the activities they once loved, seniors are far more likely to participate.
Ask Them for Help
Everyone likes to feel useful, and seniors are no different.
Whether it's volunteering at a local shelter to walk dogs or helping in the community garden or kitchen,having a purpose is a great way to boost self-esteem.
Patrick used to take pride in his Thanksgiving turkey. He loved to stand at the head of his family table and carve the bird for all to enjoy.
When Patrick moved into an assisted living facility due to mobility issues he started to lose a sense of belonging. So, when Patrick's son noticed a kitchen help program for the upcoming community Thanksgiving celebrations he encouraged Patrick's participation.
By simply giving Patrick that familiar feeling of pride as he cut into one of the turkeys at Thanksgiving, he was given his sense of purpose back as well.
Encourage Family to Visit and Get Involved
Nursing homes can feel lonely without family. Oftentimes, seniors move into these facilities alone after the death of a spouse or partner.
Certain situations, like COVID-19, may interrupt the regular family visits. So make sure to check if your loved one's senior living facility allows visits.

Devising a family plan that includes regular visits is important. But, more importantly, is that the family participates in day to day or scheduled activities both at and away from the facility when possible.
Enjoying a movie night, or a shared puzzle is a great way to pass the time with your loved-one onsite.
Or, if possible, take a ride or walk to the local coffee shop on Sunday mornings, and give your loved one a sense of freedom and normalcy.
More than anything, the time with family will likely be the most cherished time seniors spend at home or in a facility.
Take it Outdoors
Fresh air, vitamin D, and spending time in nature are all proven to be beneficial to physical, cognitive, and mental health, and the absence is known to cause illness or depression.
Taking a walk, or even feeding the ducks from the bench at a local park can do wonders for the emotional and mental well-being of the elderly.
3 Common Barriers That Stop Seniors From Participating in Activities
While it's important to know how to motivate seniors to participate in activities, it's just as important to understand the reasons why they might not want to participate in the first place.
So, what stops seniors from getting involved, and how can these barriers be avoided?
1: Communication Issues
This is usually a pretty simple fix. It could be that a senior is hard of hearing and simply doesn't understand what is being offered.
Or perhaps slower cognition or memory loss is contributing to misunderstandings.
When communicating upcoming activities with a senior who has physiological impairments, take your time. Slow down and speak louder if necessary. Ensure that you have eye contact and that your loved one can hear you.
2: Social Fears
Loneliness is recognized as a public health problem among the elderly. Studies have shown that simply removing the barriers of entry to activities isn't enough to motivate seniors to participate.
Social fears, such as…
Loss of identity
Judgment from others
Social rejections; and
Exploitation
…have all been identified as factors that prevent the elderly from participating.
Seniors need a safe and welcoming environment that eliminates the barriers caused by these fears and encourages social participation.
3: Lack of Age-Appropriate Activities
No one wants to feel as though they're being patronized, and oftentimes activities at senior facilities may appear "too old" or "too childish" to participate in.
While every seniors' needs are different, there needs to be a variety of activities that cater to different cognitive and physical skill levels.
If a senior feels that an activity is either too difficult, not challenging enough, or simply doesn't match their interests enough to enjoy, they aren't likely to participate.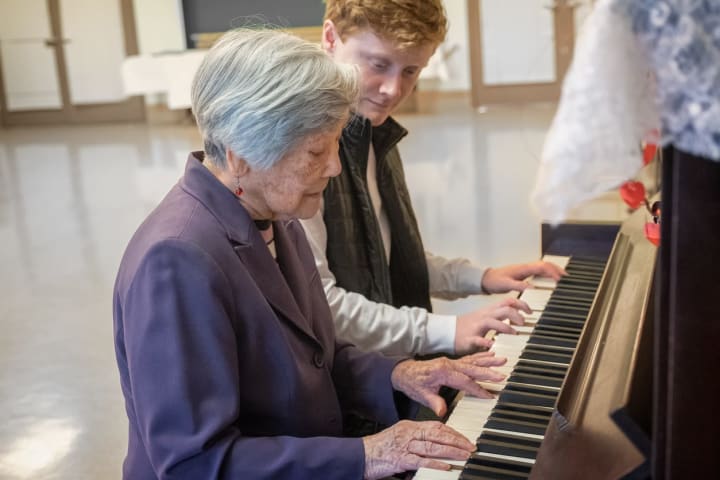 2 Types of Activities for Seniors
You know how to motivate seniors to participate in activities, but now you want to know what types of activities might the seniors in your life be interested in?
With varying interests and cognitive and physical abilities, there must be options for everyone.
1: Group Activities That Boost Participation
Many seniors aren't ready to throw in the towel on their physical and social lives, while others may want to scale it down a bit.
That's okay. And a good senior or assisted-living facility will offer a calendar full of group recreational activities to suit every interest and skill level, such as:
Outdoor Yoga or Tai-Chi
Aqua-fitness
Field Trips
Dancing
Movie nights
Book clubs
Walking groups
Cooking classes
Guided art and painting lessons
Continuing education lectures
Gardening clubs
Etc.
As we mentioned above, certain societal situations like COVID-19 may temporarily pause certain activities.

By giving seniors options that appeal to their interests not only will you boost the likelihood of participation, but you'll be enhancing their overall quality of life and sense of well-being.
2: Activities That Foster Independence and Organic Socialization
Not all activities need to be on the calendar.
Organic socialization like asking a new neighbor to have a cup of coffee in the common room, or an old friend to share in a game of cards, is important to maintaining a sense of independence and freedom.
Not all activities will take place in the community room or even with other residents.
At many senior living communities, people become close friends and start learning about each other's interests.

By creating a tight-knit community, which is what we do at our senior living facilities, we foster an environment where people create their own activities both on and off the facility.

For example, two women who love golf may go golfing once per week.

Or a group of four men might bond over their love for fishing. So, a couple of times per year, they get a lift to the local lake and do some fishing from the dock.

By providing an enriching environment, we empower residents to take initiative and may end up driving more participation than those activities that force participation.
Senior Services of America: We Put Seniors' Well Being First
At Senior Services of America, we place our staff at the core of our mission and values, ensuring that our team members provide the utmost care and support to our residents and their families.
Our communities are welcoming, comfortable, and accommodate various lifestyles.
Our approach to senior living is centered around our belief that seniors should remain independent while continuing to live purposeful lives for as long as possible.
What you'll find when you enter one of our senior living communities are happy and smiling residents, often engaged in activities with our encouraging and friendly staff, or independently among other seniors with similar interests.
Our top priority is to enrich the lives of our residents and keep them engaged in a physically, mentally, and emotionally active lifestyle.
Find a nearby community so that you can see how our commitment to enriching the lives of seniors comes shining through in the smiles of our residents.