What Are Senior Living Apartments? The Pros, Cons, and How to Decide if They Are Right for You
Are you or a loved one considering a low-maintenance, lower-cost lifestyle? Maybe you are an empty nester and are looking to downsize? A senior living apartment might be the ideal solution for you!
Senior living apartments are designed with the needs of aging in mind to accommodate the specific needs of elderly residents.
In this article, you will learn what does "senior apartments" mean, the pros and cons of senior living apartments, and if they are suitable for you or a loved one.
What Are Senior Living Apartments?
Aside from age requirements, a senior living apartment community isn't much different from other residential communities. But senior living apartments are designed with a low-maintenance lifestyle in mind.
Residents can enjoy their later years without the concern of maintaining a yard or dealing with home maintenance upkeep.
Senior living apartment buildings restrict residents according to age; most senior living apartments require their residents to be at least 55 years old.
Senior apartments are designed with the needs of older residents in mind. In senior apartments, you might find …
Single-floor living
Wide doorways to accommodate wheelchairs
Walk in showers
No or limited stairs; and
Handrails in the bathroom
Not only does a senior living apartment offer accessibility, but it also offers a sense of community. You or your loved one will not feel alone — from making new friends while strolling the grounds to resident-run activities.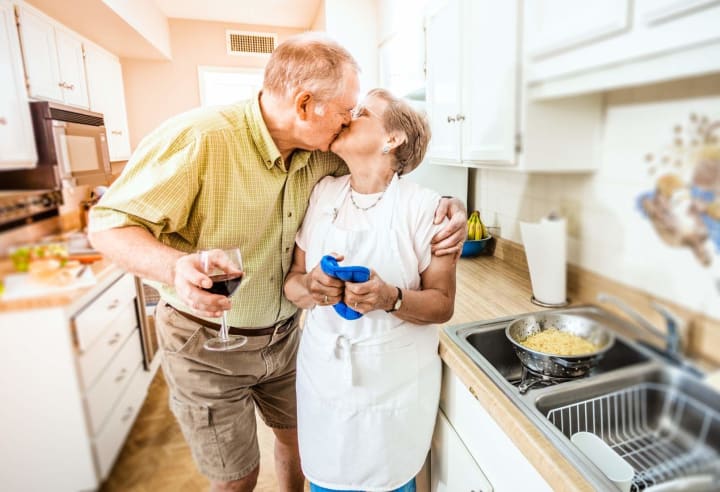 Who Can Live in Senior Apartments?
Senior apartments are for active seniors looking for a maintenance-free lifestyle. Some have been renters all their lives; others have sold their homes and are ready to downsize.
Contrary to common belief, these communities are not nursing homes and only for retirees. The residents must be at least 55 years of age, but they do not have to be retired. In fact, many residents are still in the peak earning years of their careers.
Senior apartments could be perfect for:
Someone looking for no home or yard upkeep and yard maintenance
Someone relocating to be closer to friends and family
Empty nesters who are ready to downsize
Someone who is wanting to travel and doesn't want to worry about leaving home maintenance behind
What Are Some Benefits of Senior Living Apartments?
Senior living apartments are different from the retirement communities of the past. They should not be confused with assisted living facilities or nursing homes.
They are independent living, age-restricted residences for adults who want to downsize or possibly have a more maintenance-free lifestyle. Also, it is not uncommon for older adults to move to a senior living apartment following the death of a spouse or even following a divorce.
Downsizing and moving from a family home full of memories is difficult. However, as you weigh the pros and cons of making a move like this, you quickly begin to see the advantages senior living apartments have to offer.
Let's look at some benefits of moving into senior living apartments.
#1: Maintenance-Free
When you are a homeowner, you are responsible for the house's indoor and outdoor maintenance and upkeep. Most people are not fans of lawn mowing or pulling leaves from the yard. Not many people enjoy repairing clogged bathtubs or broken dishwashers.
Fortunately, senior living apartments will take care of these tasks for you! Maintenance-free living means the apartment managers handle the upkeep for their residents.
Some of the indoor maintenance which will be taken care of includes:
Some of the outdoor maintenance which will be taken care of includes:
Broken faucets
Clogged tub or toilet
Repairs on major appliances
Changing hard-to-reach light bulbs
Some of the outdoor maintenance which will be taken care of includes:
Shoveling snow off of sidewalks and driveways
Pulling weeds from the lawn
Mowing and fertilizing the lawn
Leaf removal
Exterior building maintenance
At Senior Services of America, our independent living communities enable our residents to trade in their household chores for a comfortable and well-deserved retirement. This allows residents to pursue interests and maximize their independence during their later years.
#2: Security
Moving into a senior living apartment gives you more peace of mind for your safety since you are not living entirely by yourself.
When you move into a senior living apartment, you have your own space and a place to call your own; however, your neighbors will be close by. This can be a big plus as opposed to living alone in a neighborhood.
Some senior living apartments have added extra security measures such as:
Cameras
Emergency alert systems
Security-patrolled grounds; and
Security guards posted at entryways
These precautions can help save money when compared to the parts and monitoring costs of a stand-alone security system.
#3: No Mortgage
Living in an apartment can give you the ability to free up any equity you've built in your home. This can ultimately provide you with more financial freedom.
Many people might argue that apartment rent is sometimes higher than a mortgage payment, but they are not always looking at the bigger picture.
A mortgage is not the only expense when you live in a house. There may be …
Property tax
Insurance; and
… to consider.
Also, think about the higher utility bills. It costs more to heat and cool a home and to water a larger yard. These are expenses that can add up.
Let's review some of the pros of living in a senior living apartment and not having a mortgage:
Requires a small deposit fee
Renters insurance is a fraction of homeowner's insurance
There are not any monthly maintenance expenses; and
Your utility bills get slashed
#4: Amenities
The amenities that come with apartment living are hard to beat. Apartments have come a long way in recent years, and senior living apartments are no exception.
Many senior living apartments have all the amenities you would expect of a high-end resort, such as:
Well-equipped gyms
Spas
Barbeque areas
Salons
Walking trails
With these perks (and many more) right outside your doorstep, apartments offer many advantages that cannot be found in most homes.
Seniors can find a satisfying lifestyle at a Senior Services of America Independent Living Community. Please keep in mind, our wide range of services and amenities vary by location.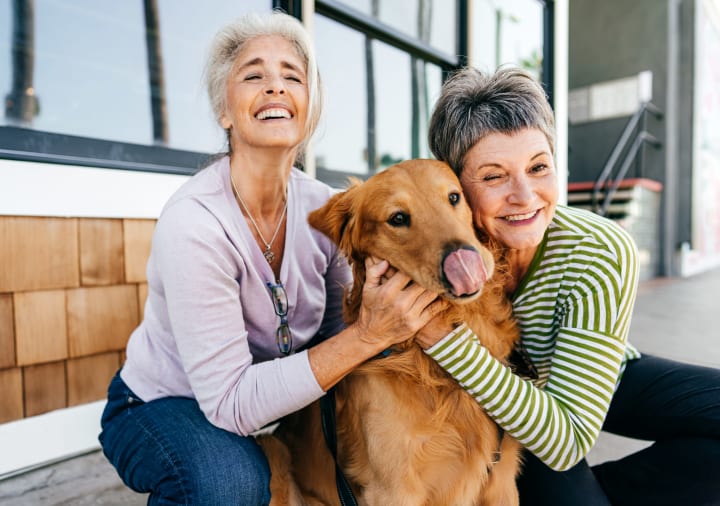 What Are Some Drawbacks of Senior Living Apartments?
While a senior living apartment has many advantages, there are also possible disadvantages to consider.
Some senior housing options (i.e., assisted living, retirement homes, etc.) will provide amenities that independent senior living apartments don't offer.
Let's take a look at a few drawbacks of these apartments.
#1: Meals Aren't Provided
Many types of senior living communities offer home-cooked meals or meal plans. Unfortunately, senior living apartments do not provide this amenity.
In senior living apartments, residents are responsible for buying their groceries and preparing their meals.
When moving into a senior living apartment, it's important to note that you or your loved one will be responsible for all meals and meal preparation.
#2: No Medical Care
A senior living apartment might not be the best option for a resident who requires frequent medical assistance.
In a senior living apartment, the residents are on their own for all medical care. This includes medication management, therapy services, and any required medical supervision.
When deciding to move into a senior living apartment, it is essential to consider the differences between apartment living and facilities that provide medical services.
For those who need frequent medical or living assistance, a senior living center, such as assisted living or a retirement community, may prove to be the best option.
#3: No Special Services
When moving into a senior living apartment, it's important to remember this is independent living; there will not be anyone else to take care of daily living activities.
You or your loved one will be responsible for all special services such as:
Housekeeping
Laundry
Transportation
Shopping
Pet care
If there can be difficulty with activities of daily living, a different living environment might be the better option.
#4: No Organized Social Schedule
What are senior apartment social activities like? In this type of setting, there are resident-planned activities. Residents are free to schedule events and activities for the apartment community, but social events are not planned for the residents.
But at an assisted living facility, numerous activities are scheduled, such as:
Health classes
Movie night
Board games
Card games
Yoga
Seasonal parties
Exercises classes
This is just a small sampling of activities. Each facility has its social calendars and social directors, but there are usually plenty of social activities available.
If a packed social calendar is essential to you, be sure to find a setting that will keep you busy and active.
Senior Living Apartments vs Independent Living Communities
If meals, activities, and services are important to you or your loved one, an independent living apartment within an assisted living community may be a good option.
Independent living residents are usually able to take advantage of the community amenities as part of their monthly fee. This may include:
Activities
Meals
Housekeeping
Laundry.
There is another benefit of an independent living arrangement over an age restricted housing option. When the time comes for senior care (such as assistance with the activities of daily living) you have the peace of mind of knowing that you have access to a higher level of care.
As you can see, there are many senior living options for older adults who aren't looking for personal care yet. Find your nearest Senior Services of America community to speak to one of our advisors. They can help you decide if independent living is right for you.
How Much Do Senior Living Apartments Cost?
When comparing the costs of different senior living facilities, you might notice senior living apartments usually aren't as expensive as other types of facilities. This is because fewer amenities are offered at senior living apartments.
In a senior living apartment, a typical renter/landlord agreement is signed. The apartment is considered to be your space and your home. Please keep in mind, due to state standards, safety regulations might be in place.
At Senior Services of America, we offer options that can help offset the costs of our different housing communities. We understand many challenges come with aging, and worrying about how to afford housing should not be one of them.
Comparing Senior Living Options? Senior Services of America Can Help
When looking for senior living options, there is a lot of information out there. Senior Services of America would be honored to help decide which option is best for you or your loved one.
Senior Services of America specializes in the management and operation of senior housing communities. We have Independent Living, Assisted Living, and Memory Care Communities.
As we get older, our physical condition changes, but our desire to remain independent does not.
Senior Services of America is dedicated to providing supportive services to help you as you navigate this next stage of life.
Contact us today to learn more about our different senior living communities.